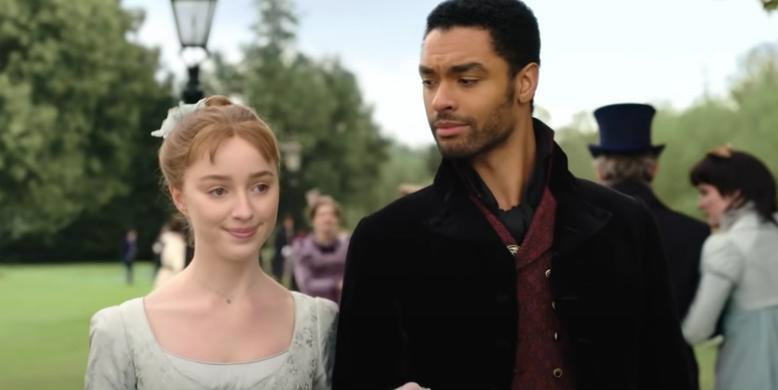 Bridgerton (2020; Season 1)
03/02/2021
For me, it might be a hard thing to admit that I did not actually want this series, maybe because everyone was watching it. Or because Netflix kept recommending it to me. Maybe it was even because I don't like historically inaccurate shows that much. Or maybe because I watched a the first couple of minutes of the first episode and was utterly bored by it? It took a while, a whole episode and then some for me to really get into it. But once I did..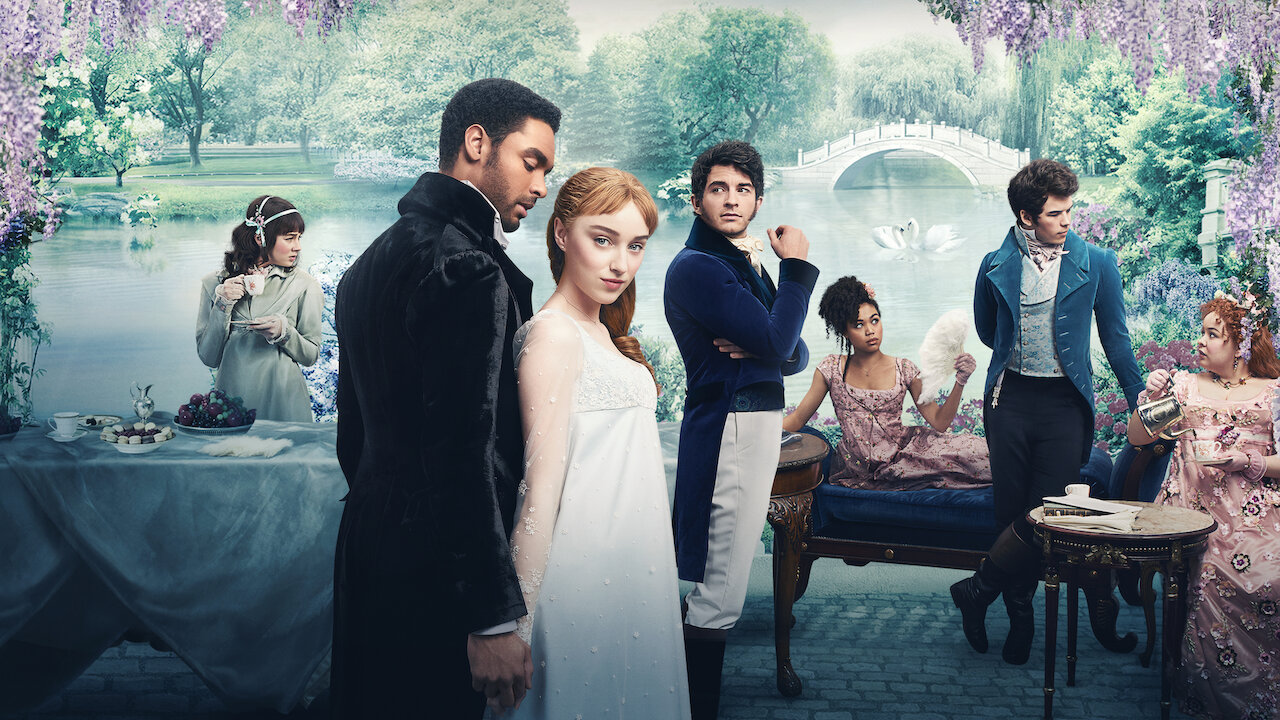 What is the story about?
Wealth, lust, and betrayal set against the backdrop of Regency-era England, seen through the eyes of the powerful Bridgerton family.This is the 'gossip girl' meets 'dramatic view of history' series you never asked for. But glad you got. I got this information here.
The trailer
If the link doesn't work, click here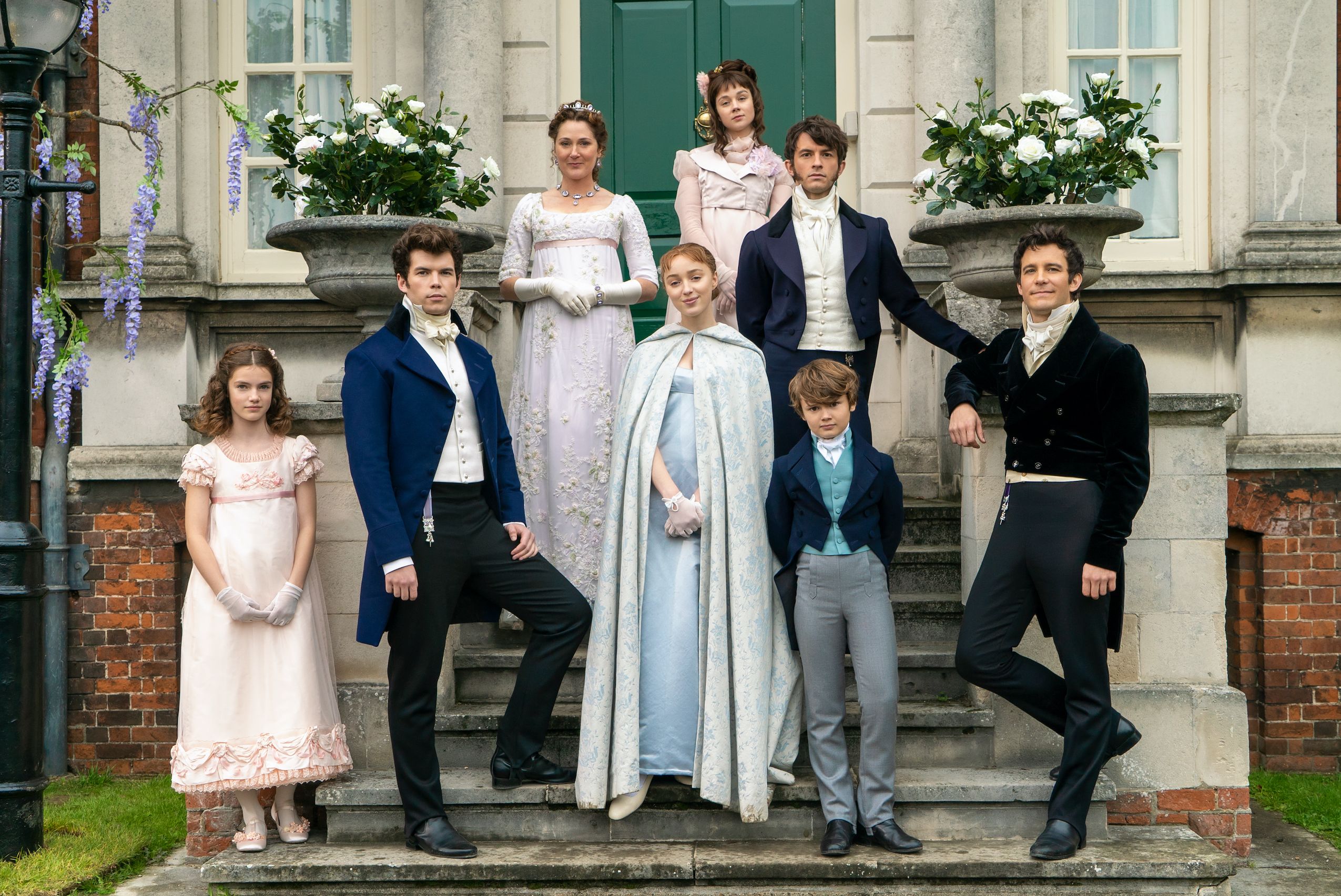 What did I think?
The fact that the staff knows absolutely everything. And the greatest gift to all woman is their ability to talk to one another, to gossip and that this can have good consequence for one of the parties involved. This I must say was special and important to see.I think a lot of people look back at those days and think that women has absolutely no power what so ever. Maybe this was true from the perspective of the law. Yet, we all know that even then women knew how to get things done. People that lived so many years ago weren't that different from us. For some this might come as a surprise but truly women ran it all (It might have been more hidden than it is now). All boys know to listen to their mothers and husbands know that 'a happy wife is a happy life'. Not everyone married for love of course. Although I do belief one can come to love someone else. Besides this some people had an understanding between the two of them. It must have been hard I can only imagine if you didn't want to marry in that way. For people that didn't wish to have relations and for people that wished to have relations to some like themselves. Now a days most people don't tend to see marriage the way they did back then. Back then, marriage was a things to strive for, a thing everyone would have to seek out. There was not much choice in the matter. I think this is because it's not frowned upon today if people are sexually active before they are married. In a lot of ways this is good thing, you shouldn't be forever ruined because you kissed someone, and if you are in an awful relationship you should always have the ability to leave. However back then, it wasn't like that. When you truly liked someone and you wanted to be with them. You had one option which was marriage. Whereas now people can date or 'talk' or just have relations. This is also why it's been said in the series that there are two reasons to marry fast 'a scandal' or 'true love'. The latter might sound odd but imagine you meet someone that you like. You become fast friends and there is so much attraction there but you cannot do anything about it until you are married. Waiting for a one month engagement. We shall only imagine how difficult this must be. I do then understand why people chose to marry quick, especially if when the attraction is there, it's far too easy to find yourself in a scandal. The serie was interesting to me as they put emphasis on the power a woman holds, and the struggles they still faced in a men's world. Women helped their husbands succeed. We all know that between every successful men is his wife*. This serie obviously wasn't historically accurate especially the clothes and hair. Personally I really liked this. Now this might be a bit of a weird opinion as I have seen a lot of people say that this is something they really dislike. But I feel that we look at the series with the eyes of today so the show needs us to feel the way they would have if it was really 1800. So, we need to like Daphne's outfits, we need to think they are fashionable, we need to look at the Featherington's and see that their dresses are pretty but just missed the mark. The queen has to look although elaborate a bit dated. We need to understand, we need to feel the way we would have felt back then. Which they did perfectly. If they put these people in dresses that where supposed to be very cute back in 1800 I don't think most people would see it that way.  I did think it to be interesting that they made the girls in the series be just that, girls. Because honestly, all of them grew up so sheltered so lacking in what it means to be a wife let alone a woman. I think it was good for us to understand that they where just girls, with dreams and hopes. Girls that had to become woman over a single season. I enjoyed the fact that they didn't stay away from the taboos. An unwed mother, a homosexual relationship. Those things where part of the world back then just as they are today. However today, we are so lucky the world looks at it differently. It shows in a sense how far most of us have come. Like I said before it was interesting to see how little women actually knew before they married. I always liked history and I think they did a good job with the rules of society and the taboo's. I can only image how difficult it must have been for these woman to marry and to have no idea. Take Daphne for example, the duke doesn't want to marry her because at the end of the day he doesn't allow himself to be happy. Which is sad itself, he think he isn't good enough for Daphne. We have to understand though that when (not if, as they where seen) people find out. She is ruined. We all saw what happend with the other family. It wasn't something society looks at lightly. I am assuming here but not one of us wanted Daphne to marry someone like Nigel Berbrooke but even he wouldn't have married her after a scandal. I think this is important for watchers to understand. Simon was, by all means, very selfish in that way. Especially because we all know he wanted to be with her anyway.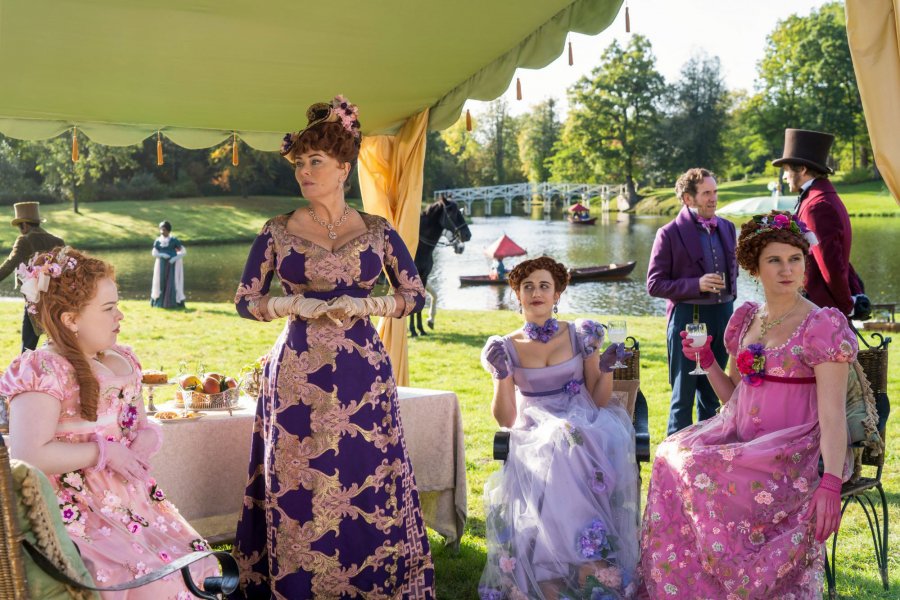 Woman didn't know back then, they where kept in the dark. For men, I suppose it was much easier as they could take the liberty to 'learn' from 'woman of the night' if you will. They where however also offered the luxury to leave when it got too hot under their feet and the girl became with child. I think this is one of the saddest things. Because after all it takes two to tango. I liked that the story had a big emphases the choices women have to make regarding their future. To marry for love, for duty or not at all. And the consequences these choices might bare, as me might view such things barbaric now. There are consequence to the choices you are making and you should really think about them. To marry for duty, for your unborn child. Those things happened, as some are not inclined to open an history book it might be good to learn. To learn, how fortunate most of us are. As now in the west we can choose. To marry or not and it doesn't necessarily matter with whom. We can also decided to carry for our child on our own and we won't be ruined for it. I disliked the Marina Thompson's storyline more than anything. I think her character was really bad (the actress was wonderful though). She was such a foolish girl with foolish ideas about the future. And I get it as everyone wants to marry for love. Yet still, she was so ungrateful to the Featherington's. I do get it in a sense, but they put everything on the line for this girl and she wasn't grateful. I mean I understand her not wanting an old men but there are so much better ways to go about all of it. I thought it showed her poor character when she talked back to people, I understand you don't want to marry this man but you could at least be kind, as he never did anything to you. Speaking of which, I was happy people find out for Colin's sake. I really had to do with his character. He showed too that it wouldn't have mattered to him, if he has been honest. That was her biggest downfall, her lack of honestly. Another example of why I didn't like her storyline is how Daphne graciously wrote a letter to help Marina and Marina then said it wouldn't make a difference because Simon didn't sign it. Which is weird for her to know as she is a farmer's daughter, and she has no idea about etiquette as seen in her behaviour. Eventually I felt for her, when she heard the news. I felt for her in general but her behaviour didn't fit with the rest of her story. I also feel that her ex-lovers brother was a man of great character, not old and not ugly. I really think she could have been off far worse. Speaking of people I do like, Penelope was such a darling and I wanted nothing but the best for her Character. I also wanted to trow every yellow dress away. I hope she will really come into her own on the next season and tell her mum to do away with the Yellow. She looks so much better in pink. I think the way they put Simon's storyline together was interesting.  When I started watching I really disliked him, over the season he grew a lot as a person. Which made me like him a lot more. Even looking at the first episode once again, knowing what I know now. I have to give it to Regé-Jean Page what a great actor he is. As I cannot stand him once again, it's the vibe he gives off as Simon. I feel it right trough the screen. Luckily later on, we find enough to like about the Duke of Hastings. Honestly, It took me a while to really enjoy Daphne and Simon's relationship but as they fell in love, I did too. And they did in my opinion fall in love. I know that some are in the belief that they shouldn't have gotten married or gotten divorced. Honestly, you don't understand the times if you are of such opinion. The best they could do divorce wise in those times was living separately and having lovers on the side. And not getting married at all? I already touched on this but the scandal, so they only option with that one was I suppose moving far away or dying. The latter being Simon's choice, however I think he (and we all) can agree it's a good thing this didn't happy. I think they have serious problems in regard to they communication. I also think that they fit well together, we can see their chemistry and love especially after they got married. Their courtship, everyone could see. They fell in love. I suppose it is hard. We hear all the time that people who have attachment issues due to how they grew up carry this into their own relationships. I think it is important to understand that they where more than anything lucky. Whatever you may or think or feel about the way relationship came to be in times like that. They where lucky to marry for love. I enjoyed the fact that Daphne learned to be a woman, she grew up and learned to listen to understand to love. But to also work for it. I can see a lot of character growth from both of them. In Simon to understand what is truly important and for Daphne to understand that perfection really shouldn't be the goal. Also I felt they could have put the stuttering in more as not everyone grows out of it. And it would have made a lot more sense in some parts of the story. Especially the big fight Simon and Daphne had. Lastly, I would like to add that I enjoy the Violet Bridgerton (Daphne's mum) as she really tried to give her daughters the best possible life. Telling Eliose that she doesn't wish to push her to get into the dating game so to speak. And how she tells Daphne that when you love someone some slip ups might happen and that at the end of the day, this doesn't matter. That for the time is such a refreshingly modern view. I really enjoyed this, you can clearly see that she and her daughter have a great relationship. I loved how they where able to put this on screen. One of my other favourite Characters is Lady Danbury so I enjoyed that her and Violet Bridgerton had screen time together. Both of these ladies saw what we also did. The love between Simon and Daphne and they worked hard to make a true love match happen. This series might not be for everyone but I surely enjoyed it.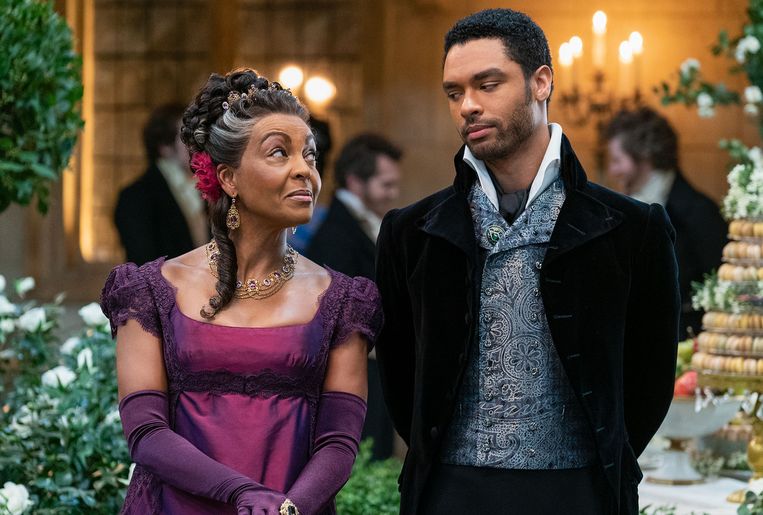 Adult content
I know, I know. But we have too. I think it makes me uncomfortable to see all of this. Because it is become a bit too much in series and films. I am no prude but 'show not tell' might not be the best course of action in this case. Maybe it is just that we should stay away from people's martial bed even if it is for a show. If you don't like such content you can skip forward and not really miss a lot of the story.
Lastly, it wouldn't surprise me if we where to find out in the next season that Lady Whistledown isn't who we think she is.
Want to know my opinions about others shows, or other life bits? Click on the links.
Lots of love,
Melissa
*I meant it as a saying, obviously you can be in other relationships than men-wife

You May Also Like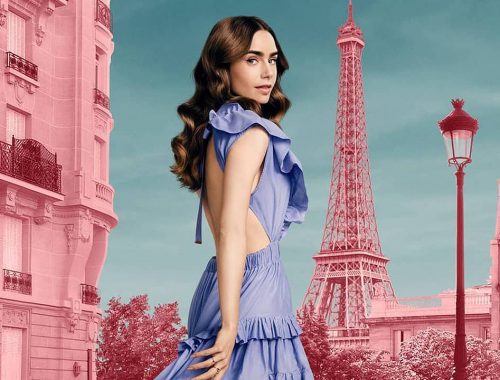 09/01/2022
25/11/2016
29/10/2017